Lumb Baptist Church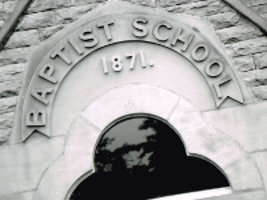 Sunday Morning Service:
Our Sunday Services start at 10.30 am. We feel we are blessed with a thriving community where all ages come together to worship God.
Usually we start the service with all ages worshipping together, and part way through the children and young people leave for their own activities.
Bouncy, lively, active children are welcome. We currently have the following youth and children's groups:
Creche:

A room where babies, toddlers and carers can play and watch the service on a TV screen. Parents need to stay with their children.

Primary (pre-school to Year 2):

Children learn Bible stories and have fun together with crafts and games.

Middle group (Year 3 to Year 7):

Children explore the Bible more deeply and have fun with crafts and games.

Youth (Year 8 to Year 11):

Young people explore the Bible and discuss contempory issues relevent to their lives.
If this is your first visit to us expect to recieve a warm welcome.
Teenie Tots: 9.30 - 11.30 am Tuesday morning during term time - games, puzzles, chat, stories and refreshments for pre-school children. Meet up with other parents and carers.
Sunday Evening Cafe Church: 7.00 pm once a month - coffee, cake, DVD's and discussion. See church diary for dates.
Pastoral Care Team: meet bi-monthly to organise visiting and practical help - see Jennifer Long.
Lunch@Lumb for the over 60's: 12.00 noon Thursday once a month. Tickets cost £5.00 see Beryl Tattersall or Carole Sharp.
Coffee for a Cause: 10.30 am - 12.00 noon once a month - the place to come for a frothy coffee or cup of tea and piece of toasted fruit bread. Includes a book stall to raise money for a different cause each month. See church diary for dates.
House Groups: Bible study and lively discussion on a range of topics. Several small groups meet during the week at people's homes or in the church. Please ask for details of times and venues.